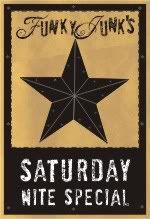 Once again, I'm partying with the Funky Junk crowd. This week's feature is window treatments. You may want to go check out the other posters.


I live in a very old house with very tall windows. While they are lovely to look at, they are not lovely to dress since my budget does not live in the custom drape world. I can buy lace panels and some curtains at IKEA so I'm supposin' that Swedes are into very tall windows or they're into that fashionable trend of piles of fabric laying on the floor for their kittens and dust bunnies to curl up on. Not so loving the look here even though I do have it going on in at least one room.

Anyhow, my curtain dilemma is solved by purchasing clearanced table cloths--usually after Christmas and usually Martha Stewart. They are cheap and long and washable. After all, you can spill all sorts of things on tablecloths because they are made to clean up nicely.

I used IKEA lace panels--which are also cheap and long and washable--and made the half curtains from the tablecloths. The trim, which was purchased in bulk on clearance at Hobby Lobby, is just draped on the middle support hook. That way I can wash the curtains without the trim getting all messed up. Or I can make a zillion tassels out of it when I'm tired of the look.

How convenient that I bought a round one by mistake. It made a cute curtain for the sink window.

I've also used IKEA lace panels to make a wall behind my bed and my daughter's and the gold panel is a tablecloth. Closets are pretty scarce in an old house, so we have to get creative with storage.

The following isn't a window treatment but more of a door treatment. It serves as a good reminder each morning when we leave the house. I love that my
daughter
sells wall words.