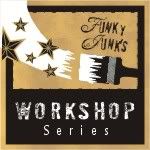 I love how Donna at
Funky Junk
inspires me to take chances with my posts. This week's challenge was to post your most risky project. It was hard to choose since I'm such a risk taker. Why not live dangerously, right?

The story of how we ended up in Tennessee is a long one. It could keep y'all entertained for hours. It has twists and turns--literally--and involves a 28-ft. camper and flat tires and people with names like "The Survivors." If the whole experience was made into a book, some of the chapter names might be What Were They Thinking?, Homesteading with the City Slickers, Square-foot Gardening on the Mountain Top, Snake in the Bedroom, Mice in the Linens, Mail-order Chickens, and Guns and Neighbors. And that's just what popped into my head without really trying.


We were living in Florida at the time and wanted out. My husband had lost his job and had temporarily taken a job installing insulation. It was awful. Our goal was to find a piece of acreage with a water source that we could pay cash for--not in Florida. The short version is that we were charmed by the Tennessee barn and the fall foliage on the bottom part of an 11-acre piece of property that we ended up buying.

We were not charmed by the house at the top of the long, steep driveway, but we didn't really care because we wanted the land to build a log cabin on. The fact that we had never built a thing in our lives didn't deter us. No sirree baby. My husband and son flew to Washington state and went to a build-a-log-home workshop--not to be confused with a Build-a-Bear Workshop. If only.

If there was a structure that we could live in in the meantime, all the better. How silly were we? By far, taking on this house has been our riskiest project to date. My husband figured out pretty quickly that there was no way the females in the family (Tessa and I) would be living in that house in that condition for even one night. Could you blame us? And you haven't even seen the inside. I don't think I feel secure enough in blog world to show y'all that--yet! Isn't the tree lovely, though? You do have to understand that we had lived in Florida for 12 years and had not enjoyed the fall colors for some time. That tree probably sealed the deal for me. If only I could have lived in it.

The specifics: 1000 sq. feet, no central heat/air, drop ceilings, four rooms?, leaky tin roof, moldy bathroom, crooked everything, built by who knows who in a county without such a thing as building permits. I was once told that they don't care if you build a bowling alley on your property. It is after all, your property. It is how it is done in the Twilight Zone country. I might mention that up to this point in my married life, I had only lived in nice *new* homes--in suburbs or cities. I had never owned a canning jar or a shotgun. Looking back, my life must not have been that interesting. Enough said. By the way, it did have an outbuilding.

The projects: new walls, new ceilings, new bathroom, new kitchen, new roof, new siding, new everything. We never really got around to the new floors, but I'm saving that for when Donna challenges us to post our risky paint projects. I should have a contest to see who could guess how many trips to the dump we made before we dug a fire pit.

I am feeling a bit insecure about now. So I think I'll just show you a few way-after photos and bypass the in-between ones. Maybe another day, another post. If anyone is really interested. Which I doubt.

The driveway was a huge job--that never ended.

The barn was to the right of Tessa in the photo below.

The house was up, up, up, and to the right.

The house looked much better after a ton of TLC!
It was still a shack, but we learned a lot there.
It prepared my husband for the business that he would start.
It sold for almost three times what we paid for it--
the first day on the market,
for asking price, cash, to someone with a Jaguar.
Hilarious.
I have never been so shocked in my entire life. Ever. It was a God thing.
It gave us the courage and the cash to tackle The Boxmoor.
The Boxmoor