Donna at Funky Junk Interiors is hosting a vignette linky party, and I decided to go. As if I haven't done enough partying this weekend already!
I am actually going to kill two *birds* with one post by participating. First, I'm going to share some vignettes that include my famous handmade birds, and then I'm going to tell you that I will be guest posting at
Life in Grace
as part of her 12 Days of Christmas Crafts Tutorials. And what I am going to show you how to make are my
famous birds
.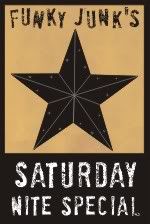 These groupings should be on the top of my bookcases in the upstairs family room. *Should* being the operative word. They are presently piled on the hall floor while the ceiling is being replaced. Besides the birds, I am also sweet on the decoupaged oval frame.

You may notice that I like books and birds.

I didn't realize that I had such a bird theme going on.
There are even a few birds hanging out on my coffee table.